---
What Color Nail Polish Do Guys Find Most Attractive?
It's not like everything you do depends on a guy.
But, if you are a single lady looking to get your freak on, then you need to have a competitive edge in the cutthroat universe of dating.
Many men all around the world have testified that one of the first things he notices about a woman is her hands.
Just like us girls, men play favourites.
---
---
When surveyed men declared that nude nail polish is one of the sexiest shades for a woman to wear on her nails.
---
Jeannie Mai Jenkins brandished nude nail polish posing up with her husband, rapper Jeezy.
---
Nude nails look natural and classic.
Everyone knows that guys love natural. The closer that you can come to looking natural the better.
When you lift your drink to your face he is looking at your hands and nails.
When you guys go out to eat and you sit down for dinner he is looking at your hair and makeup teeth and tongue, arms, hands, and nails.
---
Choose a nude nail polish with a high shine to keep your nails looking fresh between manicures.
---
---
How to find the nude nail polish to match your skin tone
What colour nail polish matches my skin tone? It all depends on what type of undertone you have.
If you flip your hand over and look at your wrist, you can get better acquainted with your package.
If your vein looks blue then you have a cool undertone.
If the vein appears green in colour then you have a warm undertone.
---
Pale Skin with a Cool Undertone
If your vein is blue, and you have pale skin, then you probably have a cool undertone.
Pale skin with cool undertones look great in nail polish colours that are sheer baby pink.
What is a Good Neutral Nail Polish Color?
Some examples of nail polish colours that are sheer baby pink are as follows:
1.L'Oreal Paris Colour Riche Le Vernis in Opera Ballerina
CDN VINYLUX in Romantique
Essie in Ballet Slippers
---
OPI TICKLE MY FRANCE-Y
How to Give Yourself a Manicure with Nude Nail Polish at Home: OPI Tickle My France-y
Gather all of the required items needed to carry out your manicure.
You will need nail polish remover.
Cotton swabs or cotton pads
Nail clippers
Emery board
Nail Buffer
Cuticle pusher
Cuticle nippers
Pumice stone
Nail moisturizer
Hand Moisturizer
Base coat
Nail polish
Clear Top Coat
Hand Exfoliating lotion.
Is there any nail polish on your nails right now?
Remove any previously applied nail polish with a nail polish remover.
Start by clipping your nails.
File your nails lightly to smooth out pesky jagged nails that cause hair breakage and damaged clothes. When you don't file your nails it can get caught in the strands of your hair, and entangled in the threading of your clothing.
Shape your nails. Do you like a square-rounded edge, or do you prefer a slightly-rounded nail shape?
Buff your nails with the nail buffer. Don't make your nails too smooth if you are planning to put on nail polish. If you buff your nails too smoothly then your nail polish will not stick. Actually the nail polish swill glide off of your nails. So, just buff enough to smooth the top and sides of the nail.
Exfoliate your hands
Ensure that your cuticles are pushed back.
Wash your hands to remove oil, and dirt from on top, and underneath the nail.
Dry you hands and nails.
Use nail polish remover and wipe down your nails.
Dry your hands and nails.
To create a professional looking polish, apply one stroke of nail lacquer down the centre of the nail, followed by one stroke along each side of the nail.
Then apply a second coat of nail lacquer, pulling colour over the tips of the nails.
Shine, seal, and protect with one coat of OPI Top Coat, pulling it over the tips of the nails.
Apply two droplets of DripDry Lacquer Drying Drops to each nail for a manicure for a fast drying manicure.
---
How to Give Yourself a Manicure with Nude Nail Polish at Home: OPI Care to Danse
---
OPI CARE TO DANSE
Nude nail polish is like camouflage for humans.
When you brandish nude nail polish that matches your skin tone it blends in with your skin.
So, when you wear nude nail polish with nude heels you legs longer because there is nothing else there to let the viewer know where the skin ends.
---
---
Nude Shoes
The purpose of nude shoes is to elongate the legs.
If you are wearing flesh-coloured open toe heels nude nail polish should be your #1 draft pick.
Does your complexion resemble chocolate? If so, here is some 411 on shoes that make your legs look sexier.
---
What Color Does Kim Kardashian Wear on her Nails?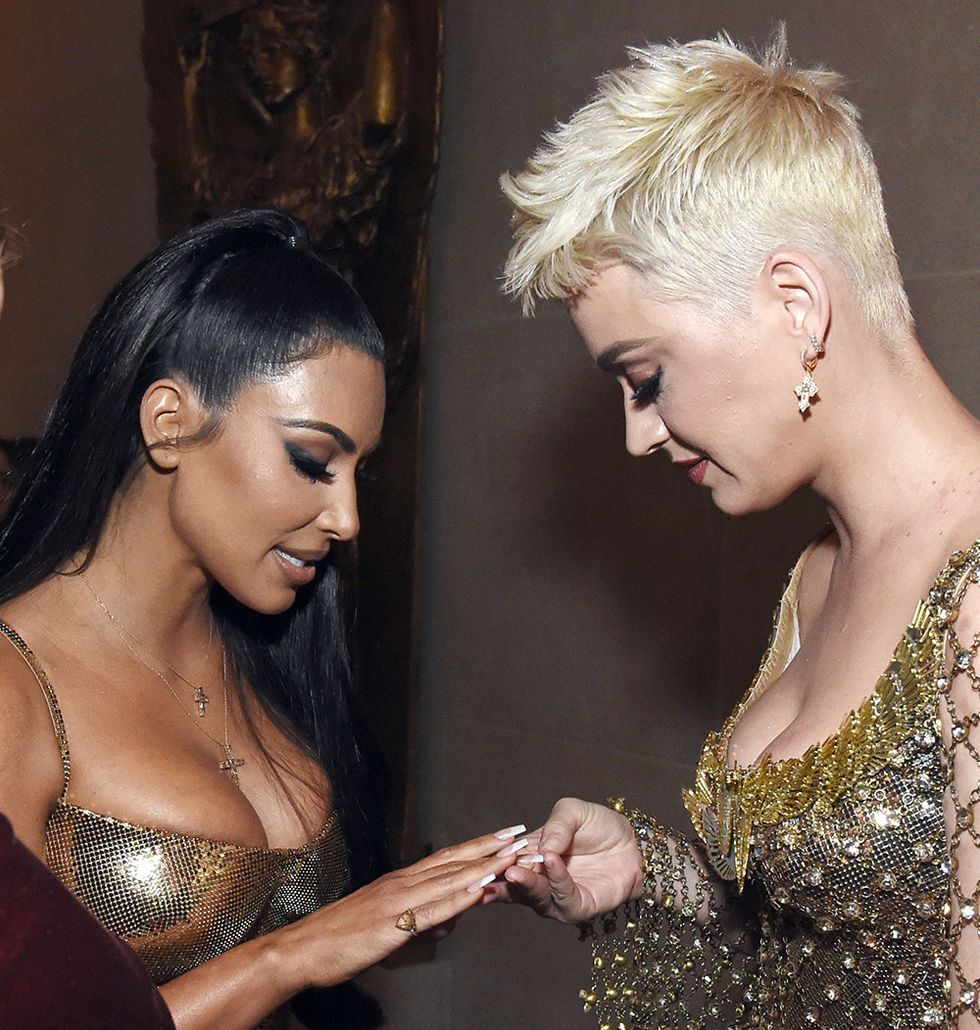 Kim Kardashian is a trendy dresser which causes her style to be ever-changing.
One thing that is constant with Kimmy K, is her commitment to nude nail polish.
Kim Kardashian does not have slim slender toes or fingers.
The best thing that Kim can do, to make her hands and feet look less rolly-polly and sausage like, is to brandish a light coloured nail polish that will blend into her skin, making her fingers and toes appear slimmer.
Kim Kardashian's branding is all about the Barbie doll life. It is integral that Kim keeps herself up so that she remains looking like sex-meat.
---
What Color Nail Polish Do Guys Find Most Attractive?
---
---
Copyright Disclaimer under section 107 of the Copyright Act of 1976, allowance is made for "fair use" for purposes such as criticism, comment, news reporting, teaching, scholarship, education and research.